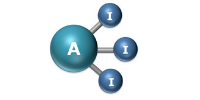 Artificial Intelligence and Augmented Intelligence for Automated Investigations for Scientific Discovery
About AI3SD
The AI3SD Network+ (Artificial Intelligence and Augmented Intelligence for Automated Investigations for Scientific Discovery) is funded by EPSRC and hosted by the University of Southampton, UK, and aims to bring together researchers looking to show how cutting edge artificial and augmented intelligence technologies can be used to push the boundaries of scientific discovery.
Collaboration with OntoCommons
AI3SD and OntoCommons are interested in cooperating together as the experience in running networks has shown that finding the right language and approach to communication is essential for true co-creative and meaningful collaborations. For the proposed network this will be facilitated by making use of the philosophical underpinnings of AI & Discovery to provide a common language that enables the AI and Physical Science communities to engage in joint endeavours.
For Chemicals and Materials Discovery, AI3SD is aiming to push the limits of synthesis, properties and engineering of molecules and materials, enabling the discovery and exploitation of unseen and un-imagined parts of chemical and material space in the area of Chemicals and Materials Discovery.
Website: