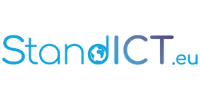 ICT Standardisation Observatory and Support Facility in Europe
About StandICT.eu
StandICT.eu 2023 will build on the success and momentum of the precursor 2018-20 StandICT.eu initiative to advance and create a truly consolidated European Standardisation Ecosystem. 
At the heart of this objective is the StandICT.eu Fellowship Programme, which through a series of 10 Open Calls, will provide 3 million Euro through a cascade grant process to support and incentivise participation of European standardisation specialists in key international and global SDOs and consortia.
Collaboration with OntoCommons
In order to exploit the potential of the standardisation applied to ontologies, the OntoCommons.eu project has already liaised with the dedicated Technical Working Group (TWG) on Ontologies, within the StandICT.eu landscape together with the Experts from the Ontocommons.eu advisory board.
The output of this collaboration is demonstrated by the development of two reports: a landscape and gap analysis.
Website: