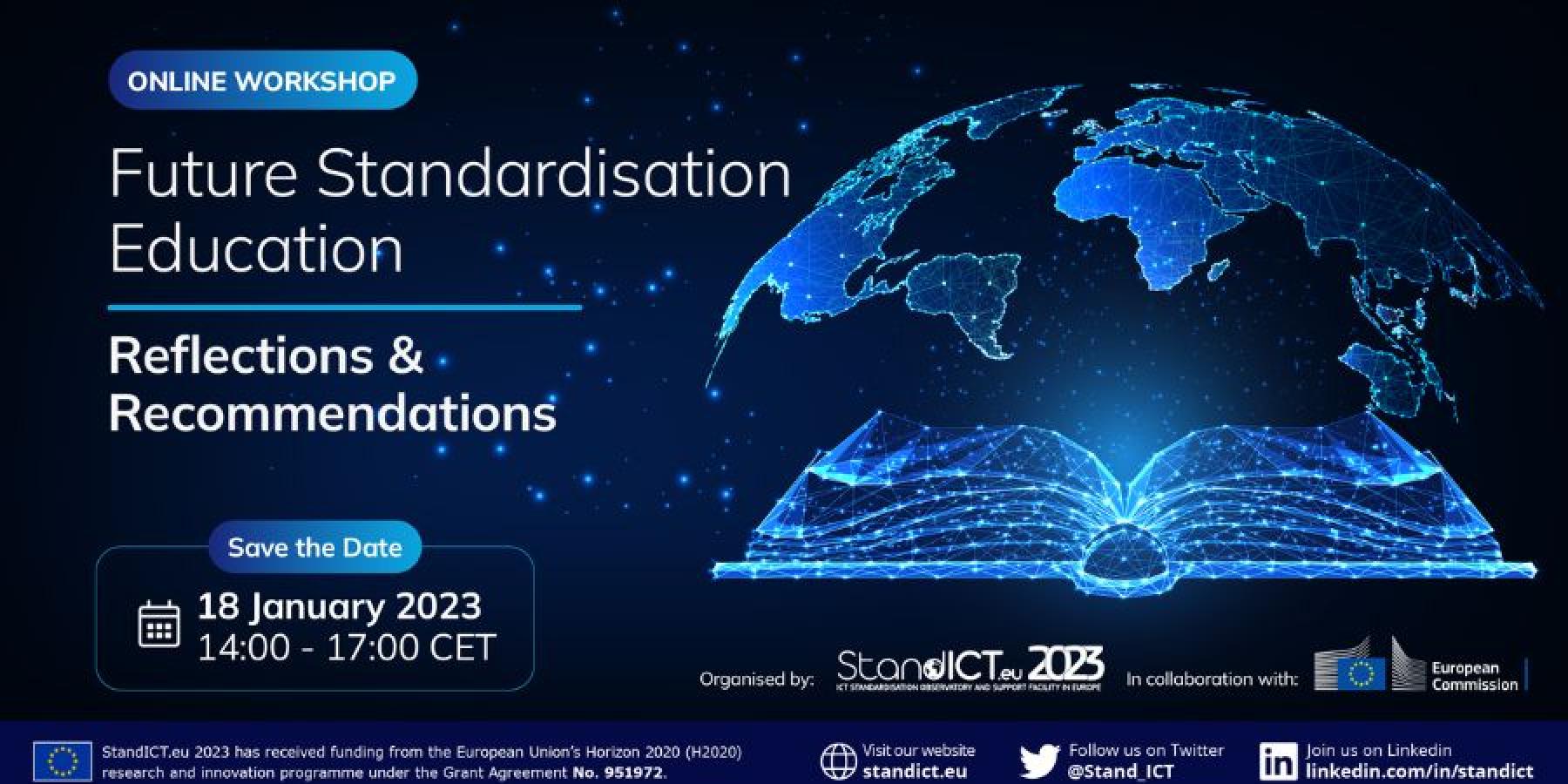 The release of the Standardisation Strategy issued In February 2022, and the creation of the High-Level Forum on European Standardisation has put a major priority focus on activities and achievements in Standardisation.
Therefore, to kick start 2023, StandICT.eu 2023 in collaboration with the European Commission, will organise an intensive 3 hour Workshop covering the principal results and impacts that StandICT.eu 2023 has achieved with a view to demonstrate how the consolidated standardisation community has drawn some practical examples with the outcomes from the Technical Working Groups.
The event will be opened by the European Commission, and the content will demonstrate the synergies and collaborations with the PPPs and other associations, the success stories of our funded fellows, and the impact from some applications within a societal, economic and technological context. A dedicated track will be addressed on Training, Educational and Standardisation efforts and new calls dedicated to this with an eye also on new funded projects operating in Standardisation. 
Agenda
14:00 - 14:15 Session 1: Welcome & Opening Remarks

Helen Köpman - Deputy Head of Unit Digital Innovation & Blockchain at European Commission DG CNECT
Silvana Muscella, CEO, Trust-IT (StandICT.Eu Coordinator)

14:15 - 15:00 Session 2: Overview of main results from the principal Standardisation projects and initiatives

Nicholas Ferguson, Senior Project Manager, COMMpla (HSbooster.Eu Coordinator) - Moderator
Eurico G. Assunção, Deputy Director, EWF  (STAND4EU)
Livia Mian, Innovation Project Manager, CEN-CENELEC
Silvana Muscella, CEO, Trust-IT (StandICT.Eu Coordinator)
Ray Walshe, Asst. Professor, Dublin City University (StandICT.Eu EUOS Director)

15:05 - 15:50 Session 3: Panel Discussion with fellows and TWG members from different ICT sectors (e.g. Artificial Intelligence, Blockchain, 5G, IoT, Digital Product Passport, Quantum computing, Digital Twin)

Silvana Muscella, CEO, Trust-IT (StandICT.Eu Coordinator) - Moderator
Muslim Elkotob, Principals Solutions Architect, Vodafone
Jens Gayko, Managing Director, Standardisation Council Industrie 4.0
Nikita Lukianets, Founder, Open Ethics
Luis Moràn Abad, Independent Senior ICT Advisor
Christine Perey, Independent Analyst and Spime Wrangler, PEREY Research & Consulting
Suno Wood, Chairman eHealth, ETSI

15:50 - 16:00 Coffee Break

16:00 - 16:40 Session 4: Panel Discussion on the Role of Standardisation in the Academic Sectors

Ray Walshe, Asst. Professor, Dublin City University (StandICT.Eu EUOS Director) - Moderator
Antonio Conte, ICT Standardisation Policy Officer, European Commission DG GROW
Knut Blind, Professor for Innovation Economics, Fraunhofer
Ivana Mijatovic, Full Professor, University Of Belgrade
Brian McAuliffe, Director of Technology Standards, HP
Michelle Wetterwald, Senior mobile networks expert, Netellany

16:40 - 16:55 Q&A 

16:55 - 17:00 Conclusions and Wrap-up