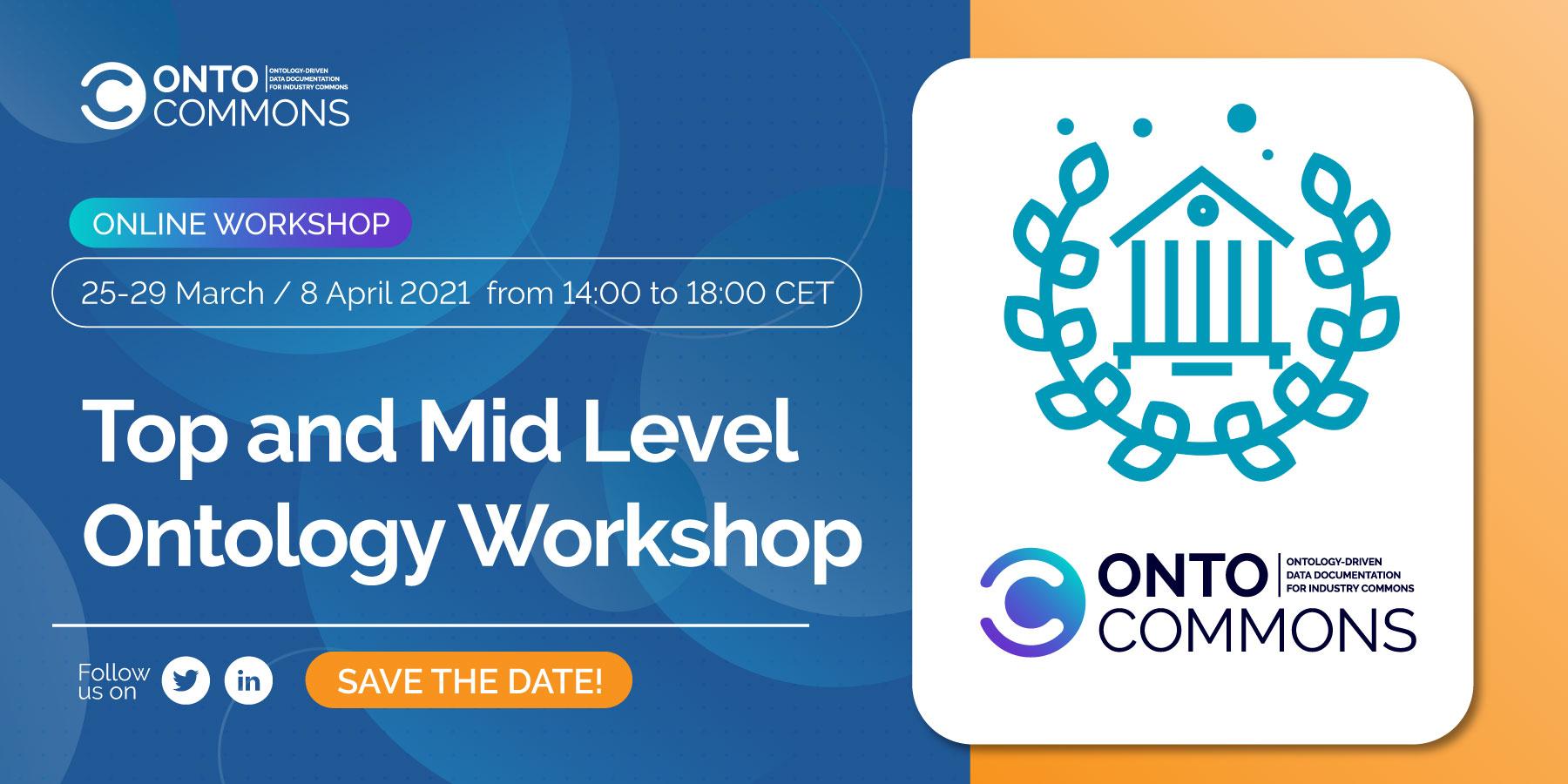 Background
The Top-Level and Mid-Level Ontologies Multi-Disciplinary Workshop is primarily intended to gather Top Level Ontology (TLO) and Mid-Level Ontology (MLO) stakeholders to create an EU based network, spanning from the philosophical community to formal TLO/MLO developers and users.
During the workshop we will ask some of the most relevant TLO and MLO developers and users to present their actual progress in the field, to depict the status and the role of high-level ontologies in the strategic perspective of European Industry digitalisation.
The workshop will give the opportunity to all attendees to contribute to the OntoCommons goal to create a Top Reference Ontology to facilitate alignments and comparisons between TLOs and MLOs, which will constitute the core of the OntoCommons EcoSystem (OCES): a set of ontologies and tools in the industrial domain following state-of-the art FAIR rules that will enable end users to harvest their potential at different levels, according to their specific needs.
Participant will take active role in the discussion, both during and after the event, providing valuable feedback to the OntoCommons project in the form of community driven objectives and strategic priorities, together with the identification of the bottlenecks that prevents further use of ontologies in the EU and the opportunities not yet fully exploited.
Participant are asked to register to the OntoCommons website and fill the dedicated questionnaire. A confirmation email will be sent by the organizers.
Who should join?
Top Level and Mid-Level ontology developers that want to:
participate to the EU coordinated initiative for ontology-based Data Documentation 
connect with other relevant stakeholders in the ontology fields
find opportunities for the exploitation of their ontology development

Ontology users that want to:
understand the opportunities that adopting a TLO/MLO may provide
contribute to a strategy for developing new framework and tools to improve their experience with ontologies
stay up-to-date with respect to the most recent developments

Researchers that want to:
formalise their knowledge into an ontological framework for data documentation and interoperability
introduce themselves into the field of ontologies

Industrial Stakeholders that want to:
understand the opportunities that adopting a TLO/MLO may provide
stay updated with the EU initiatives in the field of data digitalisation
contribute to include the needs of industry in the field of high level ontologies
Draft Agenda
DAY 1 - 25 March 2021
Time (CET)
Topic
Title
Speaker

14:00

Introduction
Welcome
Nadja Adamovic, Senior Scientist at TU Wien & OntoCommons Project Coordinator
14:05
Introduction

OntoCommons Project Presentation and Objectives

Hedi Karray, Professor at ENIT & OntoCommons Technical Coordinator
14:20
Introduction
Workshop structure and scope
Emanuele Ghedini, Professor at the University of Bologna
14:35
Introduction
OntoCommons: a Top Reference Ontology for TLOs/MLOs alignment
Emanuele Ghedini, Professor at the University of Bologna
14:40
Introduction
Ontologies and Interoperability in the NMBP Domain
Anne de Baas,
14:55
Lecture
What are and what role for TLOs?
Stefano Borgo, CNR
15:20
Break
15:35
TLOs
GFO
Heinrich Herre
16:00
TLOs
Tupper-PSL
Michael Gruninger
16:25
TLOs
UFO
Giancarlo Guizzardi
16:50
TLOs
YAMATO
Riichiro Mizoguchi
17:15
TLOs
OPM
Dov Dori
17:40
MLOs
The Ontology of Time and Process
Antony Galton
18:00
Conclusion Day 1
DAY 2 - 29 March 2021
Time (CET)
Topic
Title
Speaker

14:00

Lecture
Ontologies and Philosophy of Science
Claudio Calosi
14:25
TLOs
BFO
Barry Smith
14:50
TLOs
DOLCE
Claudio Masolo
15:15
TLOs
EMMO
Emanuele Ghedini, Professor at the University of Bologna
15:40
TLOs
BORO
Chris Partridge
16:05
TLOs
ISO15926
Matthew West
16:20
Break
16:40
MLOs
EMMO MLO
Jesper Friis
17:00
MLOs
Common Core Ontologies
Ron Rudnicki
17:20
MLOs
AFO
Heiner Oberkampf
17:40
MLOs
IOF Core Ontology
Chris Will
18:00
Conclusion Day 2
DAY 3 - 8 April 2021
Time (CET)
Topic
Title
Speaker

14:00

Experts
HETS
Till Mossakowski
14:20
Experts
OAEI 2018 matching system
Cassia Trojan
14:40
Experts
Ontology Design Patterns
Aldo Gangemi
15:00
Experts
Digital Marketplaces/Simulation Platforms
Adham Hashibon
15:20
Experts

ISO/TC 184/SC 4 "Industrial data"

Nils Sandsmark
15:40
Experts
The Upper Ontology Alignment Tool
Pascal Hitzler
16:00
Break
16:15
Future Events
16:30
Survey Results and Discussion
17:15
OntoTrans Project Feedback
18:00
End of the Workshop
If you have any question, please contact: emanuele.ghedini[@]unibo.it