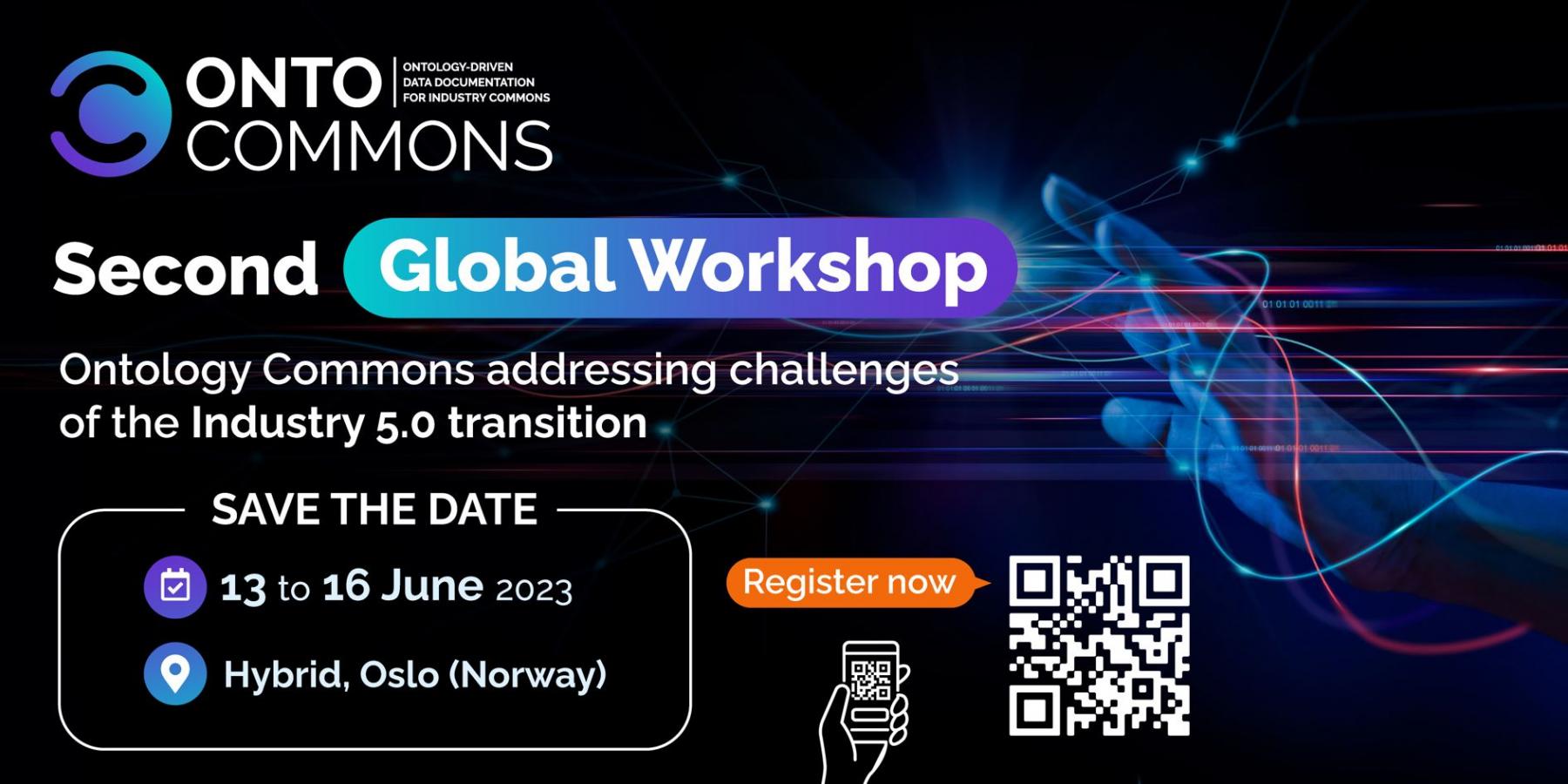 Description of the event
The Ontology Commons Global Workshop is back for its second edition, and this year's event promises to be even more engaging, with a new set of relevant speakers from the industrial sector.
The OntoCommons team is pleased to welcome a group of new industrial experts, who will provide valuable feedback on the needs, challenges, gaps, and priority actions outlined in the first release of the OntoCommons Roadmap. This feedback is crucial for OntoCommons as a Coordination and Support Action, with the objective of harmonising the view on ontology-based interoperability. The project is orchestrating the Ontology Commons Toolkit EcoSystem (OCES), a set of guidelines and alignment tools, which draws its strenght from its pluralistic approach of admitting multiple Top Level Ontologies. It is fundamental that this ecosystem aligns with industry requirements and effectively addresses the challenges and opportunities presented by Industry 5.0.
Furthermore, the workshop provides a common ground for effective dialogue between the materials and manufacturing domains. Materials science plays a critical role in product design and manufacturing. In the recent OntoCommons Focused Workshop Towards Materials and Manufacturing Commons - the enablers Digital Marketplaces, FAIR Principles and Ontologies, EC representatives Laszlo Hetey and Andrea Ceglia talked about the EU Priorities, particularly the Circular Regenerative Economy, which requires systemic thinking at all levels, from the extraction of materials to design, manufacturing, reuse of components and even disassembling technologies. They identified materials as the very engine of innovation. A better communication between these domains, which OntoCommons supports through its work on data interoperability, can lead to more sustainable, efficient, and competitive industries. In the end, this will result in optimised product design, reduced waste, and improvement of the overall efficiency of the materials characterisation, modelling and finally, product manufacturing. 
The workshop is held in a hybrid format at the University of Oslo and online from 13 to 16 June 2023. 
The workshop offers attendees an opportunity to engage in thought-provoking discussions, exchange insights, and gain a deeper understanding of the latest trends and best practices in the field of ontology. By participating in the workshop, attendees can contribute to shaping the future of the industry and be part of the global conversation on ontologies and data management.
Don't miss out on this unique opportunity to be part of a global network of experts committed to advancing the field of ontology. 
Innovative prototyping using the OntoCommons Ecosystem
OntoCommons will conduct multi-day prototyping sessions from the 12th to the 16th of June 2023, aiming to introduce the Ontocommons Ecosystem (OCES) to a wider audience, including ontology practitioners and data modellers from industry and academia. During the prototyping sessions we will be joined by the OntoCommons Demonstrators from IKEA Inter-Global Systems and the EU project Basajaun focusing on a system for managing the wood supply chain. These sessions will provide unique opportunities for the participants to learn using the OCES-recommended ontology engineering methodology and tools for building professional ontologies. We will provide training on various tools that will make your ontology development journey smoother by facilitating practical hands-on sessions with industry-relevant use cases and data. You will learn how to make ontologies sustainable and FAIR. 
Topics to be covered: 
Linked Open Terms (LOT) methodology and ontology engineering method from OntoCommons.

Ontology requirement analysis using ORSD templates.

Reusing existing ontology – introduction to top-level, middle-level, and domain-specific reference ontologies. 

How to find terms and select the most suitable ontologies for reuse (introduction to Industryportal). 

How to map ontologies using bridge concepts.

Best practices for ontology development and technical principles. 

Introduction to SousLeSens – an online graph-based visualizer and editor for ontology development. 

How to publish ontology ensuring FAIR metadata and documentation in Industryportal.

How to test your ontology and ensure its quality.

B

est practices for maintaining ontology for long-term sustainability. 

Data modelling techniques, including knowledge graph creation and update, using SPARQL query or RML (introduction to KGCreator). 
Join the prototyping session and bring your own laptop for participating in the hands-on sessions (no equipment will be provided). We will send updates to the registered participants on the specific time and instructions for setting up your laptop. 
Organisers/co-organisers:
Cristina Mancarella, Rita Giuffrida, Trust-IT Services, Italy
Maunya Doroudi Moghadam, UiO, Norway
Nadja Adamovic, Ernst-Dieter Janotka, TU Wien, Austria
Hedi Karray, Arkopaul Sarkar, ENIT
Michela Magas, ICF, Sweden
Venue & Accommodation
University of Oslo, Gaustadalléen 23B, 0373 Oslo
One of the closest hotel to the mentioned address is Thon Hotel Ullevål. However, as the venue is very close to the Forskningsparken metro station, you can also book a hotel in the city centre and take a metro to the venue in about 10 min.
Type of event
On site (hybrid participation possible)
Registration
Deadline for registration for on site in Oslo: POSTPONED! 30 May.
Registration possible until the event date for online participation.
To register for physical or online participation, please use this link. Once the registration is complete, you will receive a confirmation message and the link for online participation, please save the link in your calendar for future reference.
Overview of the sessions
Day 0: ONTOCOMMONS CONSORTIUM MEETING AND INNOVATIVE PROTOTYPING LAB - 12 June

OntoCommons Consortium meeting (Close event involving the OntoCommons partners)
Innovative prototyping lab - (Close event involving the OntoCommons partners and demonstrators)

Day 1: DEMONSTRATORS - 13 June

All sessions of Day 1 will take place from 10:00 to 17:30 in the Main Auditorium as plenary sessions, except for the Innovative Prototyping Lab and Hackathon

Plenary sessions (Main Auditorium):

Parallel sessions (Room 2):

Innovative prototyping lab (close event involving the OntoCommons partners and demonstrators)
Hackathon

In the evening, join the networking and posters session (starts at 18:00)

Day 2: STANDARDISATION - 14 June

Day 2 sessions will take place from 09:30 to 18:00, with plenary sessions scheduled both in the morning and afternoon in the Main Auditorium. The parallel sessions run at the same time, for detailed timing see the agenda below.

Plenary sessions (Main Auditorium):

Welcome session from the OntoCommons partners
OntoCommons Top Reference Ontologies
Ontology standards
Education in standards
Summary of the sessions

Parallel sessions (Main Auditorium):

Priorities for TLOs/MLOs
Training and Education

Parallel sessions (Room 1):

EOSC and FAIR data
Ontology interoperability

Parallel sessions (Room 2):

Innovative prototyping lab (close event involving the OntoCommons partners and demonstrators)

Day 3: INDUSTRY - 15 June

All sessions of Day 3 will take place from 09:30 to 18:15 in the Main Auditorium as plenary sessions, except for the Innovative Prototyping Lab and Hackathon

Plenary sessions (Main Auditorium):

Welcome session from the OntoCommons partners
From foundational ontologies to foundational models: a journey into neuro-symbolic AI applications for industry and experiences using DOLCE
Domain interoperability
Domain ontology harmonisation
Ontology portal and validation
Tools and methodologies
The future of IOF
Summary of the sessions

Parallel sessions (Room 2):

Innovative prototyping lab (close event involving the OntoCommons partners and demonstrators)

Day 4: INNOVATION - 16 June

All sessions of Day 4 will take place from 10:00 to 13:30 in the Main Auditorium as plenary sessions.

Plenary sessions (Main Auditorium):

Welcome session from the OntoCommons partners
Innovation and sustainability
Results of the prototyping lab
Summary of the sessions
Agenda:
Day 1, Tuesday, June 13th, 2023
OntoCommons Demonstrators
 
 
 
MAIN AUDITORIUM
ROOM 2
Start
End
Duration
Title of the session
Moderator & Speakers
Parallel sessions
08:00
10:00
2h
Arrival and registration

Innovative Prototyping Lab, Michela Magas, Arkopaul Sarkar, Hedi Karray

09:30
09:40
10'
Welcome from the OntoCommons partners
Nadja Adamovic (TU-Wien, OntoCommons Project Coordinator)
09:50
11:25
95'
Introduction to the OntoCommons Demonstrators and posters presentations
Umutcan Serles (STI Innsbruck))
11:25
11:40
15'
Coffee break
11:40
13:10
90'
Demonstration of Industrial Data Documentation
Umutcan Serles
13:10
14:00
50'
Lunch break
14:00
15:00
1h
Presentation of the OntoCommons Roadmap and interactive session
Hedi Karray (ENIT, OntoCommons Technical Manager)
15:00
16:00
1h
Insights from the workshop Towards Materials and Manufacturing Commons - the enablers Digital Marketplaces, FAIR Principles and Ontologies

Moderator: Martin Thomas Horsch (NMBU)

Speakers:

Silvia Chiacchiera (UKRI) - Intro to the Berlin Workshop
Pablo de Andres (Fraunhofer IWM) - Marketplace Demo
Amit Bhave (CMCL) - CMCL with Dome 4.0 / Emphasis on FAIR data and Ontologies

16:00
16:15
15'
Coffee break
16:15
17:15
1h

The way towards ontology Commons for materials and manufacturing

Moderator: Dimitris Kiritsis

Speakers:

Arild Waaler - Systems, Ontologies and IMF 
Michela Magas (ICF) - Innovation and the role of Ontologies in Industry Commons
Emanuele Ghedini (University of Bologna) - Ontological Representation of Materials
Barry Smith - Manufacturing and Ontologies
Q&A

17:15
17:30
30'
Summary of the sessions
Umutcan Serles (Universität Innsbruck)
18:00
20:00
2h
Networking session and posters presentations
 
Day 2, Wednesday, June 14th, 2023
Standardisation
 
 
 
MAIN AUDITORIUM
ROOM 1
ROOM 2
Start
End
Duration
Title of the session
Moderator & Speakers
Title of the session
Moderator
Parallel session
09:00
09:30
30'
Arrival and registration

Innovative Prototyping Lab, Michela Magas, Arkopaul Sarkar, Hedi Karray

09:30
09:35
5'
Welcome from the OntoCommons partners
Gerhard Goldbeck (GCL)
 
09:35
10:45
70'
OntoCommons Top Reference Ontologies

Moderator: Emanuele Ghedini (UNIBO)

Speakers:

Francesco Antonio Zaccarini (UNIBO)
Stefano Borgo (CNR)
Arkopaul Sarkar (CNR)

 
10:45
11:00
15'
Coffee break
11:00
12:30
90'
Ontology Standards - IEEE, ISO & more

Moderator: Hedi Karray

Speakers:

Barry Smith - BFO as ISO Standard
Alexandru Todor - Smart Standards: From Standards to Ontologies
Jim Wilson - Ontology and Standards in OAGI
Johan Wilhelm Klüwer - ISO-Industrial Data Ontology (IDO)

 
12:30
13:30
1h
Lunch break
13:30
15:00
90'
Priorities in TLO/MLOs

Moderator: Francesco Antonio Zaccarini (UNIBO)

Speakers:

Emanuele Ghedini (UNIBO) - Standards in Ontologies
Chris Partridge (BORO Solutions) - Understanding and Assessing Ontologies
Stefano Borgo (CNR) - (Foundational) Ontologies in Action

Semantic interoperability and FAIR Semantics

Moderator: Yann Le Franc (eSDF)

Speakers:

Daniel Garijo - FAIR evaluation
 Robert Pergl - Minimum metadata for FAIR Semantic artefacts
Jana Martinkova - FAIR Mappings
Wolmar Nyberg Akerstrom - Semantic Interoperability Task Force
Discussion

15:00
16:00
1h
Education in Standards

Moderator: Michela Magas (ICF)

Speakers:

Arkopaul Sarkar (ENIT) - StandICT.eu Landscape Analysis: Identifying Gaps in Education and Training
Paul Harvey (University of Glasgow) -  Empowering OntoCommons: Unleashing the Potential of HSbooster in Education and Beyond
Ivana Mijatović (University of Belgrade) - HSbooster Academy: Unlocking Opportunities for EU-Funded Initiatives
Anders Gjerver (Abel) - Harnessing the Power of Standards and Ontologies in Training and Education through Abel's Demonstrator

 

 
16:00
16:15
15'
Coffee break
16:15
17:45
90'
Training and Education

Moderator: Gerhard Goldbeck (GCL)

Speakers:

Florina Piroi (TU Wien)
Umutcan Serles (STI Innsbruck)
Henriette Harmse (EMBL-EBI)
Nicole Vasilevsky (Critical Path Institute) - OBO Academy: Training materials for Bio-ontologists
Claire Johnson (SciBite Limited) - Unleashing Software Superheroes in Industry: Training Professionals in Ontology Management

Ontology Interoperability

Moderator: Emanuele Ghedini (UNIBO)

Speakers:

Till Mossakowski (University of Magdeburg) - Tools and Interoperability
Torsten Hahmann (University of Maine) - Semantic Alignment: an overview of the strategies
Riccardo Pigazzi (POLIMI) - Qualities in Dolce

17:45
18:00
15'
Summary of the sessions
Gerhard Goldbeck (GCL)
 
Day 3, Thursday, June 15th, 2023
Industry
 
 
 
MAIN AUDITORIUM
ROOM 2
Start
End
Duration
Title of the session
Moderator
Parallel sessions
09:00
09:30
30'
Arrival and registration

Innovative Prototyping Lab, Michela Magas, Arkopaul Sarkar, Hedi Karray

09:30
09:35
5'
Welcome from the OntoCommons partners
Hedi Karray (ENIT, OntoCommons Technical Manager)
09:35
10:45
70'
Domain Interoperability

Moderator: Arkopaul Sarkar (ENIT)

Speakers:

Barry Smith (University of Buffalo)
Silvia Chiacchiera (UKRI)
David Cameron (UiO)
Francesca L. Bleken (SINTEF)

10:45
11:00
15'
Coffee break
11:00
12:00
1h
Domain ontology harmonisation

Moderator: Silvia Chiacchiera (UKRI)

Speakers:

Oystein Linnebo (UiO)
Ilaria Paponetti (UNIBO)
Alberto Olivares Alarcos (Technical University of Catalonia) - IEEE Robotics Ontology
Arkopaul Sarkar (ENIT)
Interactive session run by Silvia Chiacchiera (UKRI) & Arkopaul Sarkar (ENIT) - See the slides

12:00
13:00
1h
Lunch break
13:30
14:30
1h
From foundational ontologies to foundational models: a journey into neuro-symbolic AI applications for industry and experiences using DOLCE

Moderator: Stefano Borgo (CNR) 

Speakers:

Alessandro Oltramari (Bosch USA)

14:30
15:45
75'
Ontology portal and validation

Moderator: Lan Yang (NUIG)

Speakers:

Hedi Karray (ENIT), Arkopaul Sarkar (ENIT) - Industry Portal and its future  
Clement Jonquet (LIRMM) - Portals, ontology adoption and the OntoPortal Alliance       
Holger Knublauch (Top Quadrant) - Ontology validation and tools
Jinzhi Lu (BUAA) and Guoxin Wang (BIT) - Tool interoperability in MBSE   
Lan Yang (University of Galway) - Feedback on roadmap gaps/actions, using Vevox       

15:45
16:00
15'
Coffee break
16:00
17:15
75'
Tools and methodologies

Moderator: Maria Poveda

Speakers:

Claude Fauconnet (TotalEnergies) - SoulsLeSens
Andrea Cimmino (UPM) - SHACL validation system
Dermot Doyle (Dynaccurate) - Mapping 
Maria Poveda (UPM) - One-shot system, reference implementation     

        

17:15
18:30
75'
The future of IOF

Moderator: Dimitris Kiritsis (UiO)

Speakers:

Serm Kulvatunyou
Dimitris Kiritsis
Barry Smith
Jim Wilson
Day 4, Friday, June 16th, 2023
Innovation
 
 
 
MAIN AUDITORIUM
Start
End
Duration
Title of the session
Moderator
09:30
10:00
30'
Arrival and registration
10:00
10:05
5'
Welcome from the OntoCommons partners
Michela Magas (ICF)
10:05
11:00
55'
Challenges in IP and Industry: Digesting a Datafied World with a Legal Ontology
Tervel Bobev (KU Leuven)
11:00
11:15
15'
Coffee break
11:15
12:40
85'

OntoCommons Innovation Day Results from the OntoCommons Prototyping Lab

Andreas Rudenå, Basajaun use case
Katariina Kari, IKEA use case
Presentations from student training:

Nasreddin Bouchemel: Supporting complex intra- and cross ontology mapping in IndustryPortal
Emna Lakani: Empowering Insights: KGCreator - Redefining Data Mapping for Semantic Excellence
Amine Karoui: Supporting axioms and reasoning in SousLeSens

Michela Magas (ICF)

12:40
13:00
20'
Summary of the sessions
Chairs of the sessions
Agenda for the Innovative Prototyping session
Start
End
Duration
Date
Title of the session
TBC
TBC
30'
13 June 2023
Linked Open Terms (LOT) methodology and ontology engineering recipe from OntoCommons
16:15
15:15
60'
13 June 2023
Ontology requirement analysis using ORSD templates
09:30
10:00
30'
14 June 2023
Reusing existing ontology – introduction to top-level, middle-level, and domain-specific reference ontologies
10:00
10:30
30'
14 June 2023
How to find terms and select the most suitable ontologies to reuse (introduction to Industryportal)
TBC
TBC
TBC
TBC
How to map ontologies using bridge concepts
15:00
16:00
60'
14 June 2023
Introduction to SousLeSens – an online graph-based visualizer and editor for ontology development
16:15
17:00
45'

14 June 2023

Best practices for ontology development and technical principles

17:00
17:45
45'
14 June 2023
Data modelling techniques, including knowledge graph creation and update, using SPARQL query or RML (introduction to KGCreator)
14:00
15:00
60'
15 June 2023
How to publish ontology ensuring FAIR metadata and documentation in Industryportal
15:30
16:15
45'
15 June 2023
How to test your ontology and ensure its quality
16:15
16:45
30'
15 June 2023
Best practices for maintaining ontology for long-term sustainability
12 June - 15 June 2023
Prototyping of ontology applications by IKEA and Basajaun teams (OntoCommons Demonstrators)